Slim light for medical facilities using light guides.
Since we offer not only high efficiency, high color rendering lights, but also anti-noise measures, these are safe for use in patient rooms, examination rooms, operating rooms and more.
Recommended UsesOperating room/Emergency Room/Delivery Room/Endoscopy Room/Pathology Room/Autopsy Room/ICU/Sick ward
Low consumption, high efficiency lighting
Using this flat ceiling light can offer high light efficiency at a low power consumption rate, to help cut power and costs.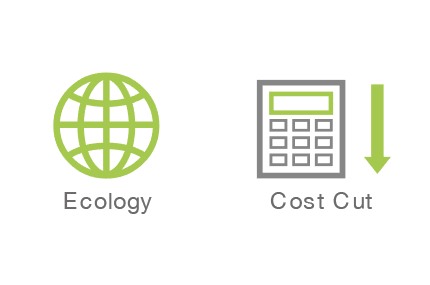 Color reproducibility compliant with Japan Industrial Standards JIS Z 9110
These lights satisfy the Japan Industrial Standards Ra rating for color reproducibility for health and welfare facilities, for lighting that much closer to natural.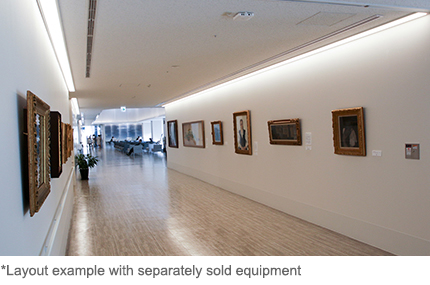 Angled lighting to offer a feeling of greater brightness and illuminate necessary areas
Installing next to walls allows constant illumination of the wall surface as well as walkways, so coverage of two vital areas can be offered by a single light. Bring together the ability to maintain necessary brightness, as well as improve emotional lightness in one function.

Slim design eliminates the need for large installation openings and helps cut down on installation costs.
Since there is no need to create a large installation opening for large recessed lighting fixtures, installation is easier and there is no need for major ceiling work. As the fixtures are slim, they are perfect for stylish, modern designs.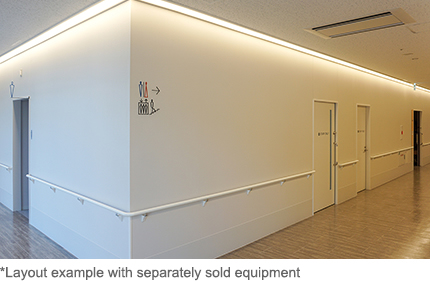 Low noise so safe to use in hospitals
Flat ceiling light conforms to Emission and Immunity standards required for the medical devices in order to prevent interference from electronic noise. It is safe and reliable for use even at hospitals and other medical and welfare facilities.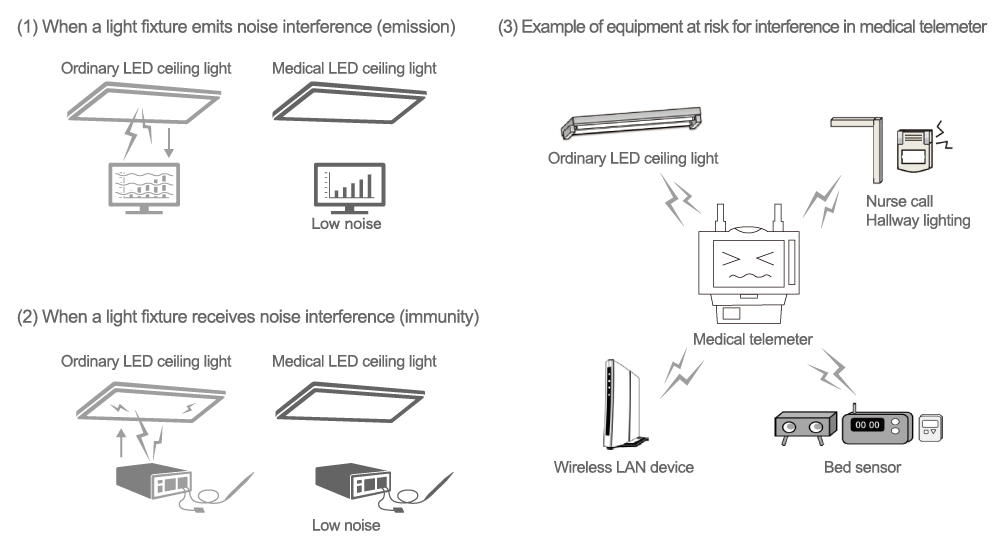 Perfect for updating from current light fixtures
We have made it easy to change from conventional fluorescent lights to LED lights, since there is no need to replace the entire existing light fixture.

Safety for changing lights
Simply changing from fluorescent lights to tube-type LED lamps can lead to risks of lighting outages or fires from poor assembly or degradation in existing fixtures (cf. "Cautions when Using Tube-type LEDs" from the Japan Lighting Manufacturers Association). )
Since this product uses no parts of the fixture apart from the case, it is safer to use.

Specifications
Item

180 × 1200 mm straight type (Vertical illumination)

180 × 1200 mm straight type (Angled Illumination)
180 × 630 mm straight type (Half size/Vertical illumination)
630 × 630 mm square type (Vertical illumination)
Product name

LGP01-018120-64D-HR

LGP01-018120-128D-HR

LDP01-018120-32D-HR

LDP01-018120-64D-HR

LGP01-018063-64D-HR

LGP01-063063-32D-HR
Unit size (mm)
L: 1200, W: 180, H: 20
L: 630, W: 180, H: 20
L: 630, W: 630, H: 20
Weight (kg)
3
–
Input voltage (V)
100 / 200
Power consumption (W)
64
128
32
64
64
32
Total luminous flux (lm)
5800
10300
3490
6200
5150
3200
Unit efficiency (lm/W)
90
80
109
97
80
100
Color temperature (K)
3500, 4250, 5000
Color rendering (Ra)
93
Dimming (Light dimmer is sold separately)
5–100%
Rated service life (h)
40000
Clean room model
Compatible with optional products
Noise-proof
Compatible with optional products
Renewed model
Compatible with optional products
*Color temperature has a common difference of 200K.
*Rated service life measures to when brightness falls to 70% of initial level.
*Specifications are subject to change without prior notice.
*Luminous flux values and unit efficiency values are computed values only.
*LDP01-018120-32D-HR and LGP01-063063-32D-HR are not subject to noise countermeasure support.