Delivering optimal light even to deeper areas
Equipped with Yamada Shadowless Lamp original "Medical LEDs".
Boasting high color reproduction close to
natural light and excellent design, these operation lights are of the highest class.

Recommended UsesOperating room/Emergency Room/Delivery Room
"Ultra-high color rendering LEDs" achieve reliable visibility and distinguishability
We used "Ultra-high color rendering LEDs" to achieve a high index of 96 for the R9 value. This corresponds to red(blood) in the special color rendering index (Ri), an index that includes colors close to the human body. This makes the colors of blood, organs, and tissue in the operative field more visible and distinguishable, helping improve the precision of operations.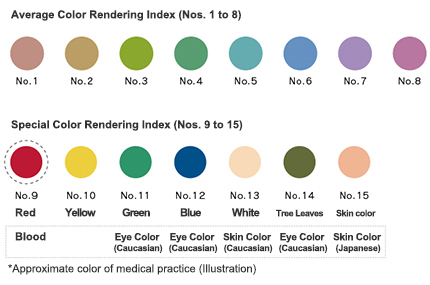 Light that is gentle on your eyes with reduced risk of blue light
Doctors who continue to look at an operation site under an abnormally bright light experience tired eyes due to blue light. "Medical LEDs"reduce the blue light risk and achieve a spectrum that does not strain the eyes.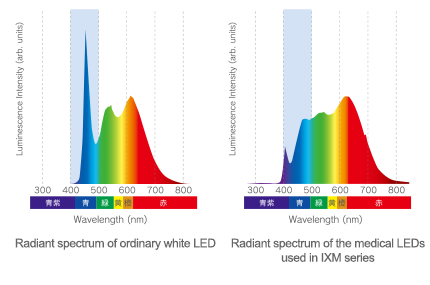 Low-glare light that makes the operation site visible and improves operation efficiency
The unique optical design prevents glare when illuminated on the operation site. This significantly reduces eye strain and discomfort for doctors, who must continue to look at the operation site over a long period of time.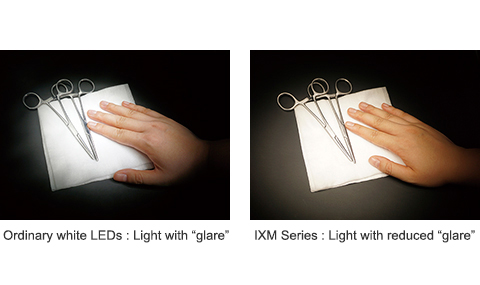 Smooth airflow
The shape of the lamp head is designed to accommodate an air-flow from the ceiling, ensuring a sufficient stream of air.This allows for a constant stream of pure air to be sent to the operation site during the operation.
Focus function
By adjusting the center focus handle (for the physician) or the side focus knob(for the support staff),users can adjust the illumination based on the distance to the operation site.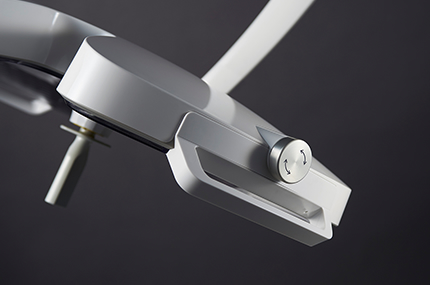 Light with "zero flickering" reduces strain on your eyes
Commonly-used lights adjust their brightness by repeatedly turning on and off in an extremely short interval (AC lighting,PWM control). However, the minute "flickering" strains your eyes, even if you're not aware of it. This also applies to the light environment of the operation room. With our DC lighting, the light can be constantly "ON", providing a light that does not flicker and is easy on your eyes.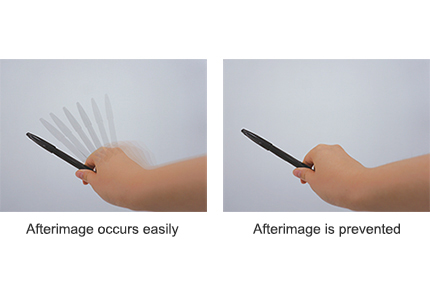 Specifications
Product name

CJ16

CJ12
Composition

> IXM-S-CJ16/IXM-S-CJ12

Lamp head + Radial arm + Vertical support tube with Balance arm + Wall panel/box
Light head diameter

> IXM-S-CJ16

Approx. 790 mm

> IXM-S-CJ12

Approx. 660 mm
LED technology

> IXM-S-CJ16/IXM-S-CJ12

"Ultra-high color rendering LEDs"
Illumination method

> IXM-S-CJ16/IXM-S-CJ12

Reflection method
I Number of units and LED devices

> IXM-S-CJ16

LED units:16 LED devices: 64

> IXM-S-CJ12

LED units:12 LED devices: 48
Central illuminance (Ec / at 1 m) *1

> IXM-S-CJ16

Approx. 140,000Lux

> IXM-S-CJ12

Approx. 100,000Lux
Irradiance(at 1 m)

> IXM-S-CJ16/IXM-S-CJ12

545 W/m2 (Maximum)
Light field diameter (d10)

> IXM-S-CJ16/IXM-S-CJ12

φ220mm
Color temperature (K)

> IXM-S-CJ16/IXM-S-CJ12

4,250±250K
Color rendering index

> IXM-S-CJ16/IXM-S-CJ12

Ra: 96 (Typical value), R9: 96 (Typical value)
Adjustment range of light intensity

> IXM-S-CJ16/IXM-S-CJ12

8 levels (from 30 to 100%), on the WALL PANEL / BOX or side panel
Adjustment range of focus

> IXM-S-CJ16/IXM-S-CJ12

700 to 1,500 mm, on the sterile center handle and focus knobs (2 locations)
LED service life

> IXM-S-CJ16/IXM-S-CJ12

40,000 hours (up to 70% light intensity)
Permissible environmental conditions

> IXM-S-CJ16/IXM-S-CJ12

Ambient temperature: 5 to 35°C, Relative air moisture: 30 to 70%, Air pressure: 800 to 1,060 hPa
Rated input voltage

> IXM-S-CJ16/IXM-S-CJ12

AC100-240V 50/60Hz
Power consumption

> IXM-S-CJ16

150VA

> IXM-S-CJ12

120VA
Fuse rating

> IXM-S-CJ16

3.15A

> IXM-S-CJ12

2A
*1: The described values are the illuminance after leaving the lamp on for 3 hours.
* Product design and specifications are subject to change without prior notice due to product improvements, etc.