Recommendations
Please select an article.
Optimal Medical Lights "Medical LEDs"
We create Yamada Shadowless Lamp's unique "optimal medical light" by addressing LED's specific demerits.
Merits and Demerits of LEDs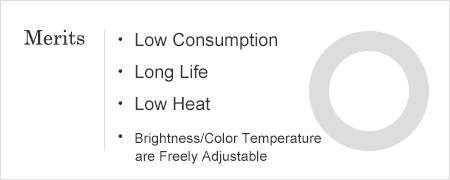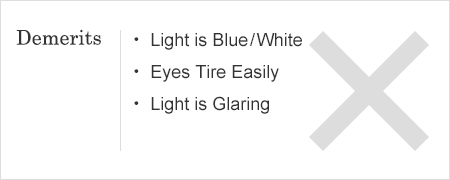 What are Medical LEDs?
Ultra-high color rendering LEDs achieve reliable visibility and distinguishability
The R9 "Red" color in the special color rendering index (Ri) including those closest to the human body, and the R15 value for Japanese skin tone are both high values, achieving a light with ultra-high color rendering.This makes the colors of blood, organs, and tissue in the operative field more visible and distinguishable, helping improve the precision of operations.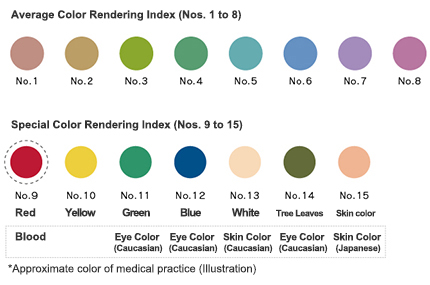 Light that is gentle on the eyes with reduced blue-light risk
Blue light can cause eye strain in doctors spending long hours under unusual lighting in the operating room.Medical LEDs reduce blue light risk, with a spectrum that reduces eye strain.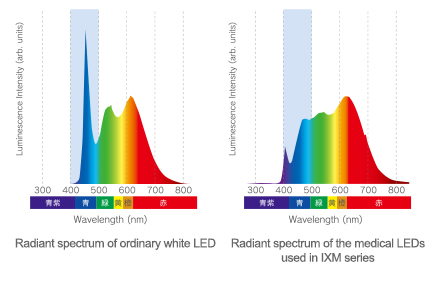 Low glare light that makes the operating site visible and
improves operation efficiency
The unique optical design prevents glare when illuminated on the operation site.This significantly reduces eye strain and discomfort for doctors, who must continue to look at the operation site over a long period of time.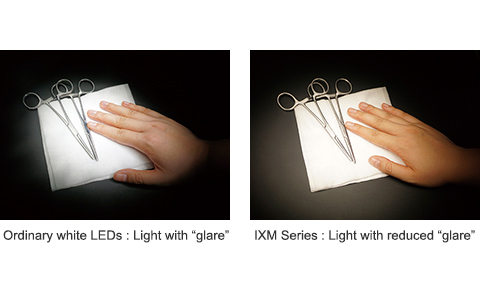 Optimal Medical Light Environment Based on JIS Standards
When it comes to medical spaces, including operating rooms, we have ready standards to help find the perfect medical light environment for any location.
Those standards are based on the Japanese Industrial Standards (JIS Z 9110: 2010), and it is required to satisfy the following space creation criteria for lighting.

Illumination (Average Maintained Illuminance)
The level of brightness that should be maintained in a given space.
In medical spaces, brightness (average maintained illuminance) depends on purpose, and those different levels must be maintained.

Unwanted Glare (UGR)
Unwanted glare is an unpleasant brightness.Glare occurs based on the angle of illumination, and the differences between light and dark areas of the space.
Therefore, glare must be controlled in clinical spaces by addressing those same issues.

Color Rendering (Ra)
This scale measures numerically how well colors are reproduced, with colors illuminated by the sun having a value of 100.
For example, looking at something under lighting with a low color rendering value makes it look washed out, while higher color rendering values offer true colors.
The color rendering index is divided into two types: average color rendering index and special color rendering index.
Medical spaces require a much higher standard of color rendering than most.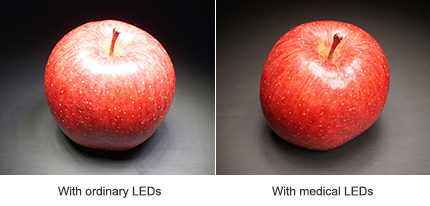 Optimal Medical Light Environment via Light Environment Survey
Recently, LED lights have seen a sudden surge in popularity.While it is valued for the merits of long life and low power consumption, its issues of color perception, glare and unpleasant brightness are real problems in medical sites.
At Yamada Shadowless Lamps, our vision is "optimal light environment for all medical spaces," so we offer an optimal medical light environment that are not simply bright but high-quality, JIS compliant*, and address all the uses and situations of a space.
* JIS Standards for operating room illumination (JIS Z 9110:2010): Average maintained illuminance 1000lx, Average color rendering value Ra90 or greater, Unwanted glare (UGR) below 19.
Light Environment Survey Flow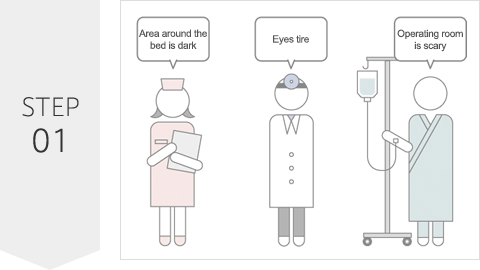 Please tell us how you feel about the current light environment.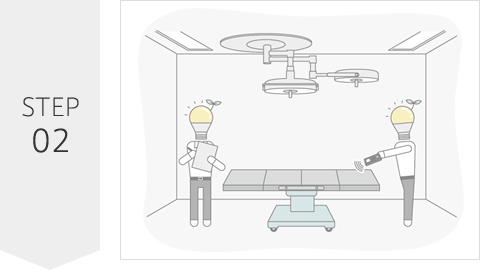 Implement a survey and grasp current light environment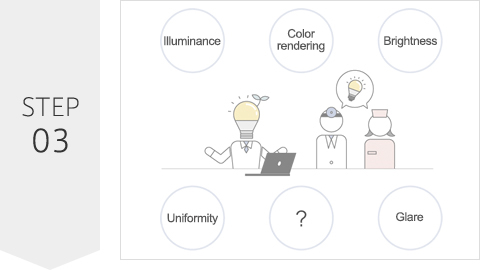 Identify problem points and issues, and propose an improved light environment.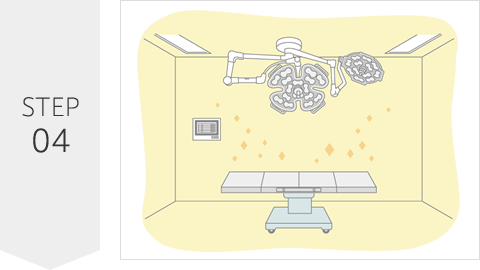 Build an optimal light environment for the space.
Example
(1) For remodeled/rebuilt medical facilities

Items for improvement

1. Improvement of workability (brightness)


In compliance with standard criteria based on JIS standards for medical facility light (Operating room: Average maintained illuminance 1000 lx), we offer bright, easy-to-work spaces.

2. Reduction of eye strain/discomfort (dazzle)


In order to reduce dazzle, a cause of discomfort, we run lighting simulations when creating a light environment to keep glare (UGR) below 19, the JIS recommended value.

3. Improvement of visibility (color perception)


We can offer proposals to help improve visibility and easy color perception with ultra-high color rendering luminaires to create the optimal light environment for your medical space.
(2) For newly built medical facilities
We can offer proposals for an optimal light environment by rendering your drawings in 3D to visualize otherwise hidden light environment.