Development & Support System

To achieve accurate but gentle light…
To achieve our goal of "accurate but gentle light", Yamada Shadowless Lamps offers the following system for development and support.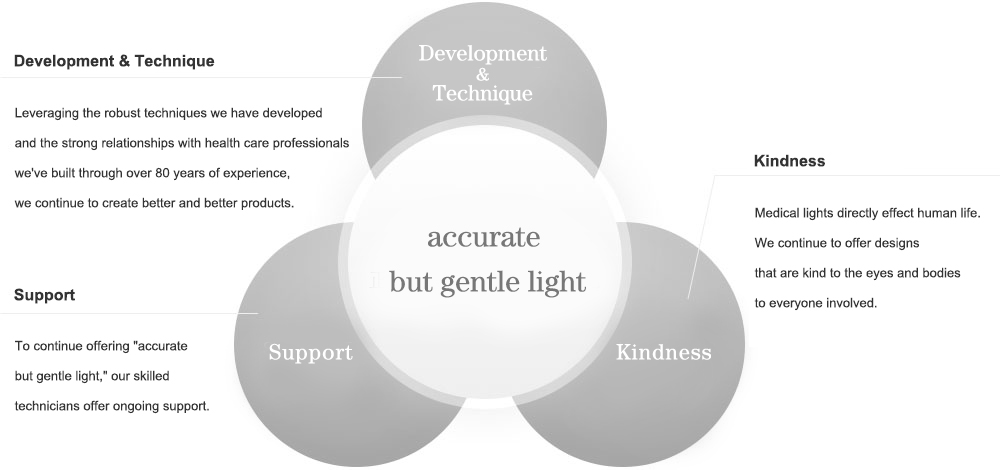 Development & Technique

Leveraging the robust techniques we have developed and the strong relationships with health care professionals we've built through over 80 years of experience, we continue to create better and better products.
Support

To continue offering "accurate but gentle light," our skilled technicians offer ongoing support.
Kindness

Medical lights directly effect human life.

We continue to offer designs that are kind to the eyes and bodies to everyone involved.
Research & Development
We at Yamada were among the first in Japan to deal with medical lights, and from our founding have relied on "Originality and Elevation" to continue our pursuit of the highest technological strength as a medical light manufacturer.
It's true that in the last few years, the medical light market has become crowded with imported goods, and the price competition is fierce.
However, as a Japanese manufacturer, we take unwavering pride in our craftsmanship, giving shape to the vision of doctors, hospital staff, and patients in developing new and better products for hospitals.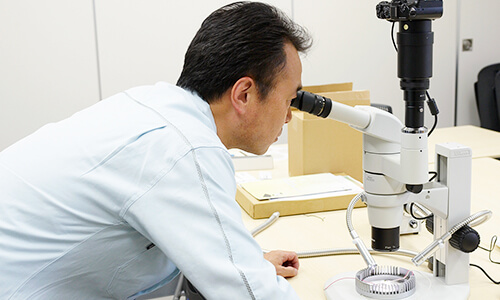 Quality Control
Quality control
Since medical lights must be assembled and installed on-site, we always pre-assemble, test, and make records of our products in an environment with the same conditions as the final installation location, and then disassemble before shipping.
We make sure that every product meets industrial standards and our customers' requests, as our goal is to offer perfect product solutions.
Since we carry out total management from production to final installation, we can promise safe, reliable quality control.
We also have a system for speedy response to customer requests to better ensure constant quality improvement.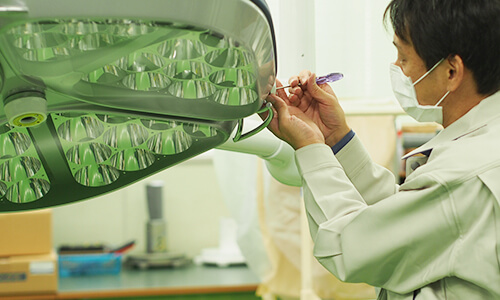 Saitama Factory
As part of our drive to guarantee "accurate but gentle light," all our products are made at factories within Japan. We offer high quality products made with the history and techniques acquired over 80 long years of experience.
1526-1 Osone, Yashio, Saitama 340-0834 Japan
Phone: +81-48-994-2621/Fax: +81-48-994-2622